RV Maintenance and Repair Services in Arlington, TX
Traveling in an RV is very popular for many good reasons. Firstly, it's cost-effective. In addition, traveling in an RV makes your vacation considerably more flexible. You can stop wherever you like, whenever you like, and stay as long as you like. Of course, that works only as long as your vehicle is in top working order.
For RV owners, maintaining your RV is essential to maximizing its utility. If you live in Arlington, TX, the name to remember when it comes to professional RV maintenance is All RV Custom Coach & Collision. For more than 15 years, we have set the standard for RV services throughout the DFW Metroplex.
All RV Provides Comprehensive RV Services in Arlington, TX
At All RV, we take pride in being a one-stop-shop for all your RV repair and maintenance needs in Arlington. Aside from having the right skills and experience to take care of all of your RV maintenance needs, our technicians are also well-equipped to provide you with high-quality service. Our services in Arlington include:
Electrical Repair – Dealing with a malfunctioning electrical system can be a nightmare for RV owners. An electrical problem can impact your RV's capacity to keep your food fresh, keep you comfortable, or even just move from one place to another. Our technicians at All RV are experts in RV electrical repair.
Heating Repair – One of the perks of owning an RV is the ability to stop and rest anywhere. However, you must make sure that your HVAC system is working properly so you can be comfortable regardless of where you choose to get some shut-eye. All RV offers professional heating repair services.
Plumbing Repair – RVs are equipped with a toilet, shower, sink, and the needed plumbing system to make it work. Make sure that your RV's plumbing system is working properly before going on a long trip. Our capable technicians can do a plumbing maintenance check for you.
Let All RV Check Your RV in Arlington Today
To make the most out of your RV, it's crucial that you maintain it regularly. Our RV maintenance and repair services are available in Arlington and other cities in the Dallas-Fort Worth Metroplex. To learn more about our services or to request roadside assistance, please call 817-663-8183. You may also send us a message through our Contact Us page.
Customer Reviews from Arlington
John D from Arlington, TX
Jul 20th, 2018
Great experience! Had a couple of issues with my RV & they handled both professionally and economically. A pleasure to do business with. I'll be back and recommend to others. If there were 10 stars I'd do that.
Don S from Arlington, TX
Feb 10th, 2017
We were on our first big trip in our new 5th wheel, and making just about every "newbie" mistake. We had just had a new hitch put on the trailer, and the next morning I noticed the bolts had loosened! I tightened them, but it was a bit off center as well. We were on our way from Waco to Arlington, so my wife called her sister to find a repair place. Enter All RV. They looked at the hitch, had to take it all apart, then reinstall it. Took 3 guys and about an hour, but its done right now! They even let our dogs rest inside out of the heat. I'm telling everyone I can about this incredible team!!
Completed Jobs from Arlington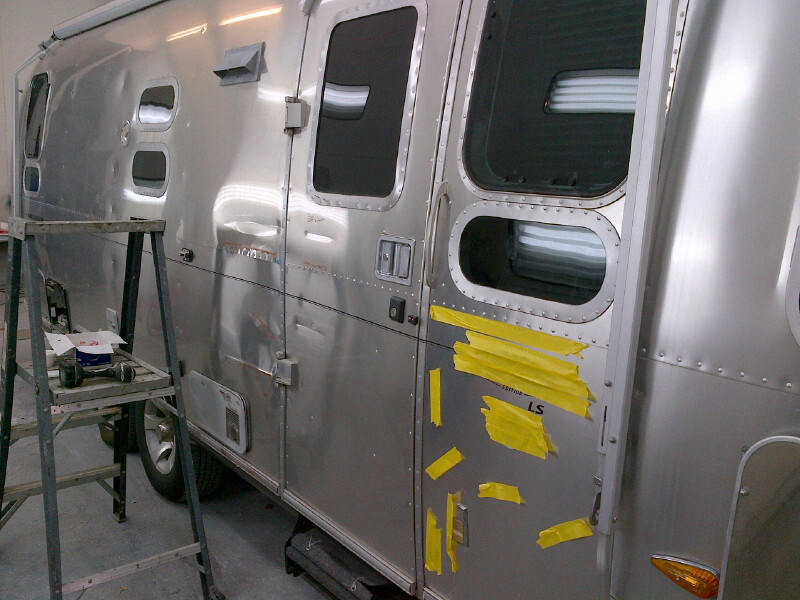 Airstream Body Work
August 12, 2016
Our RV body repair team was able to repair the damage to the Airstream, returning it back to its original look the day it left the sales lot.